Splitsville Bowling Billiards & Dinner Lounge (Tampa)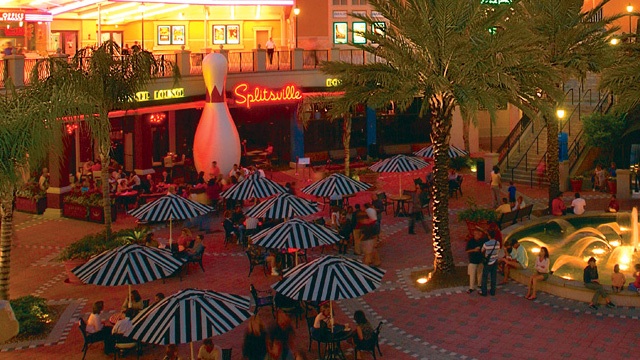 *****  Splitsville Bowling Billiards & Dinner Lounge, 615 Channelside Drive, Tampa, Florida 33602 (813) 514-2695.
If you do some checking, earlier today I did a writeup on Lucky Strike Lanes an upscale-bowling joint located in Miami Beach. In that review, I told you that Lucky Strike was a terrific 21st century bowling alley/sports bar combination. I also mentioned that Lucky Strike Lanes is a chain operation with something like 15 joints, one of which is located in Florida.
I just wanted you guys to know, that there is a single-joint-operator in Tampa, Florida who in my opinion has "outdone" Lucky Strike Lanes. The joint I am talking about is Splitsville. I have been to Splitsville exactly twice…10/1/05 and 7/29/06. I didn't bowl, but ate dinner.  Splitsville's website is www.splitsvillelanes.com. Take a close look at the photos/menu/pricing/other details… I found Splitsville's decor more creative… its menu "deeper"… its food" better" and its price-points "more" customer friendly.
Comparing Lucky Strike and Splitsville is like comparing a Six Flags amusement park to a Disneyland or Disney World or Universal Studios…Lucky Strike is terrific, Splitsville is incredible.
This bowling alley/sports bar concept is a great idea…I just thought you would enjoy comparing two "takes" on the same basic "concept."