Pizza Rustica (Miami Beach, Miami, Fort Lauderdale, Hollywood & Delray Beach)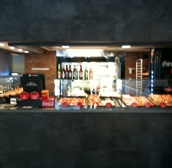 *****  Pizza Rustica, 863 Washington Avenue, Miami Beach, Florida 33139 (305) 674-8244.
Pizza Rustica is a small pizza chain which currently has 7 South Florida locations and a handful of locations elsewhere.
This joint's concept is real simple…slices and salads are ordered/picked-up at the counter …there is something like 20 different topped slices and maybe a dozen or so different salads. You can check Pizza Rustica's website at www.pizza-rustica.com  for menu/pricing/locations/and other details.
I have eaten "dinner" in the Delray Beach joint at least 5 times and the Miami Beach location 3 times…and I have to tell you that the pizza is pretty decent. Pizza Rustica has a very simple formula for making its pizzas…rectangle-shaped pizza shells are pre-baked and then filled (and finished off) with the various "toppings." I have "sampled" bbq, NY steak, margherita, chicken parmesan, sausage and pepperoni slices and like I said before, the stuff is pretty decent…the same goes for a chicken caesar salad that I have had several times.
Every time that I have been at Pizza Rustica, the joint has been jammed. As for pricing, maybe a buck more than you are use to paying at your neighborhood pizza joint for a nice-size slice, same on the salad.
Pizza Rustica: Order at the counter…Pick-up at the counter…Grab a table.
Pizza Rustica is open 7 days a week for lunch and dinner.