Tomasso's Pizza & Subs (Boca Raton)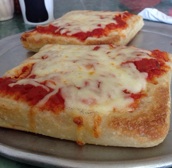 *****  Tomasso's Pizza & Subs, 1229 W. Palmetto Park Road, Boca Raton, Florida 33486 (561) 392-8985.
Let me make this writeup as short as possible.
Tomasso's is a pizza-subs takeout joint. It has been around since 1981. As you can see from its menu at www.tomassos-pizza.com it has all the stuff that you would expect from a neighborhood takeout…pizza, pastas, subs (you may know them as hoagies, grinders, po' boys, oyster loaves, Italians), calzones, strombolis, veal-seafood-chicken-meat entrees, etc.
Tomasso's food is very good. It is probably as good as your local favorite takeout, if not better…Because Tomasso's is not "in my neighborhood" I haven't gotten as much food from this joint as I would have liked. There is one other thing that separates Tomasso's from the other area takeouts, namely its owners. Over the years, Tomasso's has bent over backwards to help the local area public schools, teams and charities…this joint is always sponsering some type of fund raising event… the latest being its August 2nd "Pizzas For Pencils" which is raising money for after school supplies.
Very good food. Very community minded owners. Why wouldn't "you" give them your business?
If you live in Tomasso's area, this is an Italian takeout that deserves your business.