New York Prime (Boca Raton)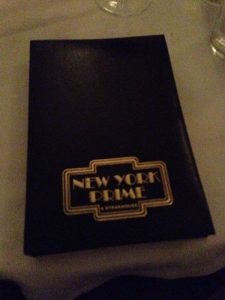 New York Prime, 2350 NW Executive Center, Boca Raton, Florida 33431 (561) 998-3881.
This evening I ate dinner at New York Prime an upscale steakhouse…you know exactly what this kind of joint is all about…where a  22 oz. bone-in-ribeye goes for $42…where a baked potato goes for $7.50. Personally, if I closed my eyes and just ate, I couldn't tell you if I was in New York Prime, Abe & Louie's, Chops, Morton's, Ruth's Chris… as they all play the same tune, give or take a different "note" here and there. As for tonight's food, it was okay, nothing great…the steak was very fatty…the hash browns bland, your neighborhood bagel-deli makes better ones and doesn't charge $11…the onion rings and sauteed onions sides were good,  but pricey at $8 and $11 respectively. 
For information about menu/prices/hours… check this joint's website at www.centraarchy.com.
Just for fun…Do a bit of homework here…look at the menu prices and figure out what "your" theoretical meal would cost. I think your calculator will show, that unless you eat like a bird… a no alcohol-no appetizer-no dessert meal is going to run you something like 60-85 bucks a head. 
Last night, my party of 4 dropped $300+…everyone agreed that the food was just fair and was way overpriced.  For that kind of money, you would expect at least one "Boy! that sure was delicious" comment…don't you think?
I know people who swear by this joint…Personally, I think it's "a- big- to-do-over-nothing." The same goes for most of the upscale steak joints in South Florida, with one exception that being the Strip House (see review 5/9/08) in Palm Beach Gardens which doesn't take itself all that seriously.