Big Louie's (Fort Lauderdale, Pompano Beach, Hollywood, Boca Raton & Wilton Manors)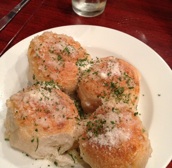 *****  Big Louie's, 1990 East Sunrise Boulevard, Fort Lauderdale, Florida (954) 467-1166.
Big Louie's is a local red sauce Southern Italian chain…there are currently 7 locations. Check Big Louie's website at www.biglouies.com for menu/prices/locations. Over the years, I have eaten in 3 of the 7 locations…and all of the joints' menus were basically the same.
You know and I know, that South Florida has more "mom and pop" red sauce chains than there are Chins in a Chinese phonebook…I am not going to name names, but you know that, 9 times out of 10 the food is average at best. Anyway…somehow Big Louie's has managed to break the mold. Now we aren't talking gourmet stuff here, but most of the pastas and chicken-veal-meat-entrees are a step or two above chain "quality." In addition, Big Louie's makes a nice pizza pie.
 Now, no one is telling you to dump your favorite red-sauce joint for Big Louie's…What you now have, is "another" place to enjoy half-way decent pizza and other standards.
Big Louie's is open 7 days a week for lunch and dinner.