Offerdahl's Cafe Grill (Boca Raton, Fort Lauderdale, Hollywood, Weston, Lighthouse Point & Miami)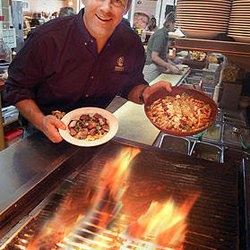 *****  Offerdahl's Cafe Grill, 17940 North Military Trail, Boca Raton, Florida 33496 (561) 995-7355.
For the the "uneducated," Offerdahl's Cafe Grill is owned by Johnny Offerdahl who played for the Miami Dolphins in the 1990s. While playing, Johnny started a retail bagel store business which was fittingly called Offerdahl's Bagels…In 1995 Johnny retired from football and also sold his 10 Offerdahl's Bagels stores to Einstein Bagels. Fast forward to the year 2000 and Johnny  now decides to get back into the "bagel business" and opens a new joint called Offerdahl's Cafe Grill, which is a bagel store that not only does bagels/breakfast but lunch and dinner salads/soups and hot entrees…Today, Johnny has 9 locations in South Florida. Check Offerdahl's website at www.offerdahls.com for menu/locations.
You know what a "just okay" joint is?…well, Offerdahl's is just that. Think a minature Panera Bread and you got Offerdahl's. Your favorite neighborhood bagel joint has better bagels…better breakfasts…better everything. Like I said two seconds ago, think a smaller version of Panera Bread and you know the whole story here…the food is okay but nothing that you have to run-out for.
So…why is old Jeff Eats giving Offerdahl's the revered *****?…because old Johnny was one of hell of a middle linebacker and old Jeff Eats is a Dolphins' fan.
Finally, some of the inquisitve folks out there may just be wondering why Johnny Offerdahl decided to get back into the bagel business (2000) in the first place. Now don't hold me to this, but I suspect that somewhere along the line Einstein's Bagels defaulted on some part of its original buyout deal, which then allowed Johnny to get back into the game, I mean bagel business…or, Johnny had a 5 year non-compete agreement with Einstein's which expired in 2000…Anyway, Johnny is back.