Kitchenetta (Fort Lauderdale)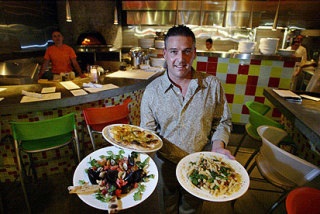 Kitchenetta, 2850 North Federal Highway, Fort Lauderdale, Florida 33306 (954) 567-3333.
Kitchenetta is an Italian Restaurant…I have to tell you, that I have eaten at this joint exactly 3 times and each time had the exact same results…the food is absolutely delicious…but the service is so bad, that you really don't enjoy the food…The wait-staff and the kitchen for some unknown reason can't work together, like bringing out all of the appetizers at the same time/bringing out all of the entrees at the same time…in addition, the wait-staff doesn't even know how to perform even such basic chores, as refilling water glasses and bread baskets without being asked…to put it bluntly, the wait-staff absolutely stinks.
Kitchenetta is an absolutely gorgeous "super modern" stainless steel joint…It is housed in a free standing building and has inside and outdoor patio seating… A  poster at "yelp." described it as a "Jetson" looking joint, which really describes the decor perfectly.
Like I said before, Kitchenetta's food is terrific…individual pizzas, pastas, meatball appetizer…name it and it's delicious…the only problem being, is that your meatball appetizer may show up when the folks you are eating with are already on dessert.
Like I said before…I did Kitchenetta 3 times…that's it for me. I hate being aggrevated when I eat out.
Kitchenetta has a big following…I guess some people are more forgiving than I am…so if you want to try it, call ahead for a reservation. The joint does lunch and dinner 7 days a week.