Moonlite Diner (Fort Lauderdale)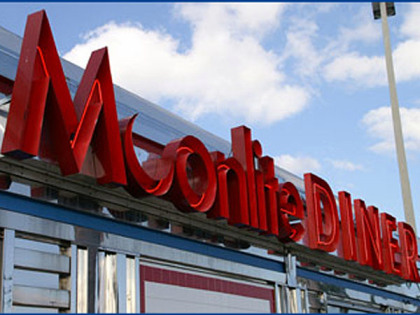 Moonlite Diner, 6201 North Andrews Avenue, Fort Lauderdale, Florida 33309 (954) 938-1116.
The Moonlite Diner is a faux 1950's free-standing-stainless steel diner. Inside the joint has the obligatory red vinyl booths, checkerboard floor and counter seating. I have to tell you, that over the past 5 years or so, I have eaten in the Moonlite Diner exactly 4 times…the food is not half bad…the problem with this joint or maybe it's just me, is that I get the sense that the joint isn't clean. For some reason, whenever I have been in the Moonlite I just feel as if it is covered in a thin coat of grease. Maybe I am crazy, but that's the story.
Moonlite does breakfast-lunch and dinner 7 days a week…Sunday-Thursday 6am-midnight and Friday-Saturday 6am-2am. It's got the full range of diner stuff. Like I said before, the food isn't half-bad…but that greasy feeling prevents any further visits by me.