Big Pink Restaurant (Miami Beach)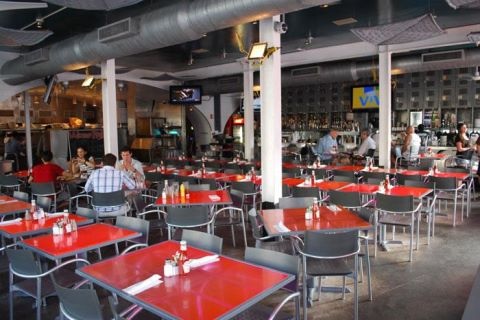 *****  Big Pink Restaurant, 157 Collins Avenue, Miami Beach, Florida 33139 (305) 532-4700.
Big Pink is one of my favorite South Florida joints…let's call it a retro looking 1950's diner/with a touch of South Beach color thrown in.. If after checking Big Pink's website www.bigpinkrestaurant.com menu/pricing/pictures/hours…you still don't want to give it a try, then nothing I say or write is going to get you there.
Great food.  Big portions. Great service. Reasonable prices. Great ambiance/decor.
Big Pink is open Monday-Wednesday 8am-Midnight…Thursday 8am-2am…Friday-Sunday 8am-5:30am.
If you can't find something to eat at this joint, then there is something very wrong with you. The menu is literally endless, loaded with appetizers, soups, pizzas, salads, burgers, sandwiches, entrees…This joint even has its own version of the old tv dinner called Big Pink Tv Dinner which goes for $14.95. This "tv dinner" has 6 items (which change daily) served on a stainless-steel "tv dinner tray."
This joint is an absolute must try. Don't miss it.