Jack's Old Fashion Hamburger House (Oakland Park & Pompano Beach)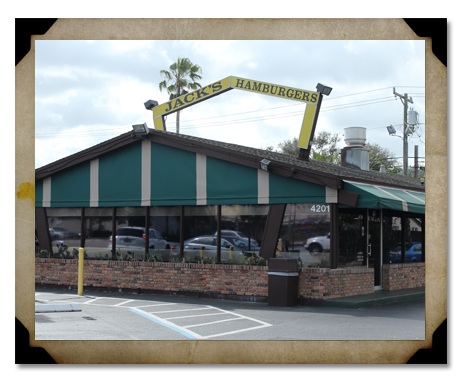 *****  Jack's Old Fashion Hamburger House, 4201 North Federal Highway, Oakland Park, Florida 33308 (954) 565-9960…&…591 South Cypress Road, Pompano Beach, Florida 33060, (954) 942-2844.
Jack's Old Fashion Hamburger House has 2 South Florida locations…the Oakland Park joint opened in 1972 and the Pompano Beach store in 1973.
Jack's is a fast-food hamburger joint. Jack's has other stuff, but HAMBURGERS ARE THE GAME. Both Jack's locations are literally "landmarks." They are always busy. The hamburgers are very-very  good. The fries are okay, but nothing to write home about. Over the years, I must have eaten (combined) in the 2 different locations something like 30 times. These joints are fast-food joints circa 1970. I like the "unmodern" (if that's a real word) look…old tables and no stainless steel/formica/vivid colors/signage that joints like Burger King, Wendy's etc have. I also like the "crowd" that these joints draw. Guys in suits, families, blue color workers…the parking lots, have cars in every price range…the point, Jack's has a legendary following in South Florida.
Now for the good news and bad news…To be perfectly honest with you, I use to make special trips to eat at Jack's…Now that Five Guys Burgers & Fries has started to open in the South Florida market, I would rather eat at Five Guys than Jack's. Like I said, Jack's hamburgers are very-very  good… while Five Guys' hamburgers and fries are terrific. Though it's a story for another day, Five Guys Burgers & Fries is quickly developing a cult following in South Florida…and for that matter, all of the United States.
Don't get me wrong…you won't be disappointed eating at Jack's…which is open 7 days a week from 10:30am-9:30pm…but this 1970's icon is now getting some real tough competition from Five Guys.