Miller's Jupiter Ale House (Jupiter)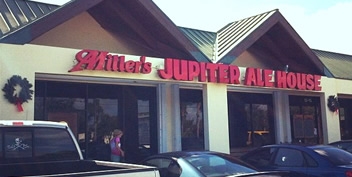 *****  Miller's Jupiter Ale House, 126 Center Street, Jupiter, Florida 33458 (561) 746-7620
Miller's owns and operates a "ton" and I do mean a "ton" of sports-bars/ale houses in South Florida. Its website is www.millersalehouse.com . Check the site for locations/menu/pricing/hours.
Miller's joints all take on a local name…in Boca Raton, the joint is the Boca Ale House…in Jupiter the joint is the Jupiter Ale House…in Coral Springs the joint is the Coral Springs Ale House…so on and so forth.
Over the years, I have eaten in a number of Miller's South Florida locations…my most recent meal being in the Jupiter Ale House 3 weeks ago. All of the Ale Houses look alike…big bar area,  tvs galore, small game room, wood booths. The menus are the same…tons of appetizers, burgers, sandwiches and entrees…something for everybody. Just so you know, the food is okay- not great…(operative word) OKAY… The prices are cheap…that's the game…like a 20 oz. bone-in porterhouse steak with french fries for something like 10 bucks.
I have to tell you, that every so often, I really enjoy a grizzly-steak covered in grilled onions and french fries drenched in ketchup that costs $9.99…Sort of reminds me of Tad's Broiled Steaks (you- New Yorkers know what I am talking about) circa 1960.
The Ale Houses are open 7 days a weekfor lunch and dinner. Like I said, okay food priced perfectly.
By the way…some of you may not know, but Tad's Broiled Steaks currently has a location at 152 West 34th Street, New York, New York 10001 (212) 630-0318…those were the days.