Nick's Tomatoe Pie (Jupiter)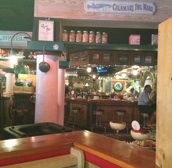 *****  Nick's Tomatoe Pie, 1697 West Indiantown Road, Jupiter, Florida 33458 (561) 744-8935.
For the past 20 years, the folks in Jupiter have been stuffing their faces at Nick's Tomato Pie. The joint is packed almost every evening…The takeout business is virtually non-stop.
Nick's is a red sauce Southern Italian joint, that does a great job in the pasta, pizza, sub, meat/veal/fish/chicken dish arena. Super family friendly…priced right…individual or family style portions…great selection of desserts.
Nick's runs circles around the typical "mom and pop" Italian joint.
Nick's is open 7 days a week for lunch and dinner.