DiSalvo's Pizza & Italian Restaurant (Davie, Hollywood, Plantation & Coral Springs)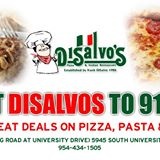 *****  DiSalvo's Pizza & Italian Restaurant, 4190 N. 46th Avenue, Hollywood, Florida (954) 962-1115.
DiSalvo's is a family-operated/small chain of red sauce Southern Italian joints. There are currently 4 South Florida locations…2 in Hollywood, 1 in Coral Springs and 1 in Plantation. The joint at 4190 N. 46th Avenue in Hollywood is where I first "met" the the DiSalvo family something like 16 years ago.
Just a bit of history…when I first started going to the DiSalvo's in Hollywood, the DiSalvo family was getting ready to open a steak joint named Kansas City Steak on University Boulevard in Davie, Florida. Over the next few years, I must have eaten in the Kansas City restaurant at least 10 times…the food was great…the service was great…the prices were fair…and it was  a very family friendly joint. The DiSalvo's eventually sold Kansas City Steak…  Although I haven't been to Kansas City Steak in a number of years, I understand that the joint is still doing a big business and is still terrific…One of these days I'll get down to Kansas City Steak and checkout the food for you guys…Anway, the point of this not so short story…I learned 16 years ago, that the DiSalvos know how to run a restaurant…make great food…price it right…and treat their customers in a manner which makes them feel comfortable and right at home.
Over the past 16 years I must have eaten in their joints a combined total of maybe 15 times. I will tell you, that I have been in all the locations and the menu/service is identical at all 4 spots. Take a look at DiSalvo's website at www.disalvosmenu.com for menu/pricing/locations.
As you all know, South Florida has its fair share of small Southern Italian chains…Actually, South Florida has way too many small chains, but that's a story for another day.
DiSalvo's does a very good job in the pasta, pizza, subs and meat-fish-veal-chicken entree departments. The food is priced right. The service is efficient. The garlic rolls are sensational.
If there is a DiSalvo's in your neighborhood, give it a shot. It is as good as your favorite "mom and pop" joint, probably even better.
DiSalvo's is open 7 days a week for lunch and dinner.