Tramonti Ristorante (Delray Beach)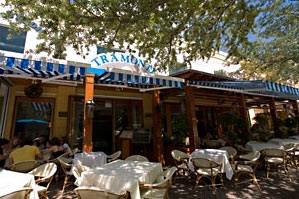 Tramonti Ristorante, 119 East Atalantic Avenue, Delray Beach, Florida  (561) 272-1944.
Restaurants come and restaurants go, especially on Delray Beach's Atlantic Avenue…as soon as one goes out of business, another seems to take its place.
Tramonti has been around for several years. I have walked/driven by this white table cloth Italian joint something like 50 times and its indoor/outdoor tables were always/and still are jammed…Obviously, Tramonti must be doing something very-very right.
I have eaten at Tramonti exactly twice, once when it first opened and most recently two weeks ago. The food (chicken scarpariello and steak pizziaola) at best was just "fair" and overpriced…the service unprofessional/borderline horrendous.
Many people rave about this joint. I am going to let you in on a little secret, Tramonti is "full of itself" and has bamboozled its fans into believing that it is a top-notch Italian Restaurant.
Do me a favor and go to Tramanti's website www.tramantidelray.com where you can get menu/prices/and other details about this joint. Notice how its owners play up their relationship with the world famous Angelo's of Mulberry Street which first opened for business in New York City in 1902….There is absolutely nothing special about Tramonti's food, service or prices. What Tramonti is…is a place where people go to "see and be seen"…capice! I suspect that the Angelo's "connection" is what triggered the star-status currently enjoyed by Tramanti.
I believe that someone once said, "I knew Jack Kennedy…and you are no Jack Kennedy." Well…I have eaten at Angelo's of Mulberry Street and Tramonti Ristorante is no Angelo's of Mulberry Street.
Anyway…I could be 100% wrong about Tramonti, so if you want to decide for yourself the joint is open for lunch/dinner Monday-Saturday and dinner only on Sunday.