Chez Porky's BBQ Restaurant (Pompano Beach)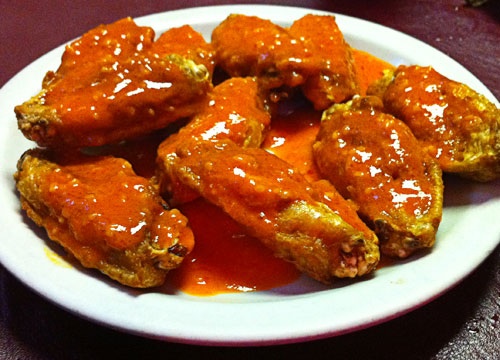 *****  Chez Porky's BBQ Restaurant, 105 SW 6th Street, Pompano Beach, Florida 33060 (954) 946-5590.
If you are going to give Chez Porky's a try, do yourself a favor and call ahead for directions…do a MapQuest search…have a GPS unit in your car…this joint is located in a non-descript neighborhood strip center and is an absolute "hole in the wall."
Chez Porky's is a real easy going joint that "specializes" in chicken wings and bbq ribs…its menu which has a Cajun-bias is also loaded with other stuff like chicken gumbo soup, marinated strip steak and various chicken dishes…trust me, you'll find something to eat at Chez Porky's.
This joint has been around for something like 25 years and has a  very big following. Although it is literally located in the middle of nowhere, it is always busy with eat in and take-out. Chez Porky's clientele is an eclectic group…truckers, blue collar workers, doctors and nurses from a near by hospital…everyone who lives or works in the area, seems to know about Chez Porky's great food and very reasonable prices.
Chez Porky's is open Monday-Friday for lunch and dinner…and Saturday-Sunday dinner only.