Hamburger Heaven (Palm Beach)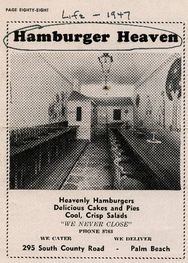 *****  Hamburger Heaven, 314 South County Road, Palm Beach, Florida 33480 (561) 655-5277.
Hamburger Heaven has been in business since 1945. It's got booths and a horseshoe shaped counter for seating.
This joint is open Monday-Saturday 7:30 am-8pm. It is closed on Sunday.
This is one of my favorite places for a "nice" greasy cheeseburger/french fries/Coke. Hamburger Heaven has loads of toppings for its burgers…This is also a great place for a diner-type breakfast. For those of you not into the burger scene, this joint also has a full-lineup of salads and sandwiches.