Casa D'Angelo (Fort Lauderdale)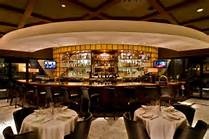 Casa D'Angelo, 1201 North Federal Highway, Fort Lauderdale, Florida 33304 (954) 564-1235.
I just don't get it.
If you do a Google Search of Casa D'Angelo you will find loads of rave professional/customer reviews about this Tuscan/Southern Italian joint. Your search will also indicate that celebrities galore love Casa D'Angelo.
Last week I "paid" my 3rd dinner visit to this joint. Spread over 18 months, I found on  each visit…the food to be just fair. I found the service to be just fair. I found the joint to be overpriced. I found the reception area to have the old  "their sh#t don't stink attitude."
This joint ain't for me.
Since there are literally tons of people who disagree with me on this call, you may want to check this joint out for yourself.  Now I could be wrong, but I think that this is a joint that for some reason or another caught on with the "in crowd" and has been riding the gravy train every since.
Casa D'Angelo's website is at www.casa-d-angelo.com. The site will give you details on menu/pricing/hours.
Let me know what you think.