Doc's All American Restaurant (Delray Beach)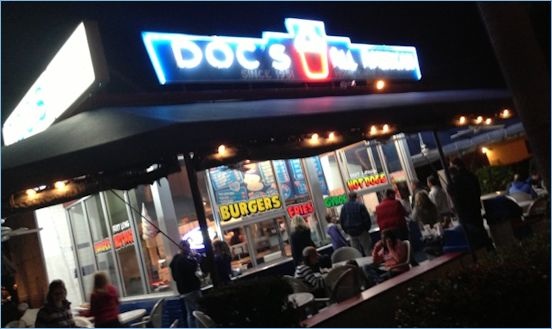 *****  Doc's All American Restaurant, 10 N. Swinton Avenue, Delray Beach, Florida 33444, (561) 278-3627.
Doc's has been around since the 1950s…As a matter of fact, a few years ago, the City of Delray Beach actually gave Doc's building landmark status, which means that the building can't be torn-down etc.
Doc's is a fast food joint. There is no indoor seating, but there is a nice-sized out-door patio with tables/chairs and umbrellas.
Doc's is a place that you go to for burgers, fries, onion rings, soft-serve ice cream and milkshakes. There is no wait-staff…you order/pickup at the same counter.
I think that if you do some checking, you will find that in the 1950s every small town in America had its version of Doc's…a neighborhood meeting/hangout place.
Doc's is a throwback to another era. Just so you know, the burgers, fries etc are not gourmet stuff…this is a fast food joint.
Give this joint a try. It is real easy-going place and is a nice change from today's modern fast-food burger joints.
Doc's is open Sunday-Thursday 11am-11pm & Friday-Saturday 11am-1am.