Jason's Deli (Boynton Beach)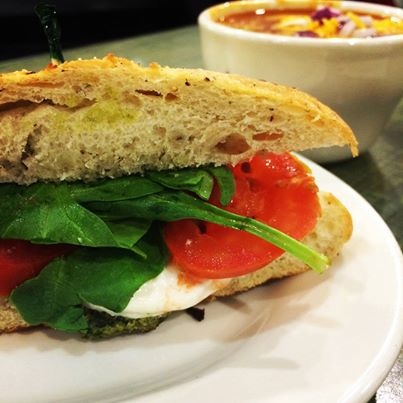 *****  Jason's Deli, 870 North Congress Avenue, Boynton Beach, Florida 33426, (561) 738-1820.
Last night I ate dinner at Jason's Deli located in Boynton Beach.
Jason's is a chain operation that currently has 188 oultets located throughout the United States. Check its website at www.jasonsdeli.com for other South Florida locations and menu/pricing details. By the way, #189 is set to open any day now in Pembroke, Pines.
Imagine a very large (about 4,500 sq.ft.) old fashioned  NYC "kosher style" deli circa 1950…that's the design. You order at a huge counter and the food is delivered to your table. There is a salad bar (which you can buy alone or with a meal), beverage station and a free ice-cream bar. Jason's menu is loaded with all kinds of soups, salads and sandwiches. There are all kinds of specials, like a 1/2 sandwich and a cup of soup for $6.99. From what I saw, you absolutely-positively will find something to eat at this joint. The salad bar had enough stuff to warrant it being a stand alone meal.
Jason's physical layout is extremely attractive…I just love the old 1950's look (there are a few flat screen tvs to let you know what century it really is). The Boynton Beach location has been around for about 6 months and appears to be extremely well run and is very clean. It also appears to do an enormous takeout and catering business.
 Last night, I had 1/2 pastrami sandwich and 1/2 corned beef sandwich and I have to tell you, that the sandwiches were piled high with meat and were delicious. I also tried the  beef-gumbo and potato soups and both were also very good.
This deli hybrid…self serve/almost wait-staff is a homerun of an idea. Not quite a buffet joint and not quite a sit-down restaurant, I found Jason's to have a very novel approach to feeding people. If you try Jason's, you'll better understand what I am yapping about.
Like I said before, Jason's has a huge menu. On price-points, Jason's is in the same ballpark as your neighborhood deli or sandwich shop.
Jason's is open 7 days a week for lunch and dinner.