Pomperdale New York Style Deli (Fort Lauderdale)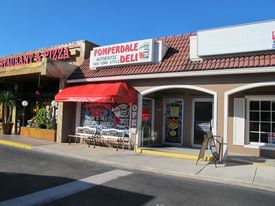 *****  Pomperdale New York Style Deli, 3055 East Commercial Boulevard, Fort Lauderdale, Florida 33308, (954) 771-9830.
The Pomperdale Deli has been in business for nearly 40 years. I found this joint about 16 years ago and have probably eaten lunch there ar least 50 times.
If you like good…no make that great deli and appetizing…then this joint is for you. No waiters…order at the counter…No checks, just tell the guy at the register what you had.
This is probably the best "kosher style" deli in South Florida. As a matter of fact, it may very well be the best deli in Florida. The food is absolutely terrific.  This joint is open 7 days a week…Monday-Saturday 6am-5pm and Sunday 6am-3pm.
Don't miss this joint…it is a one of a kind.