Howley's Restaurant (West Palm Beach)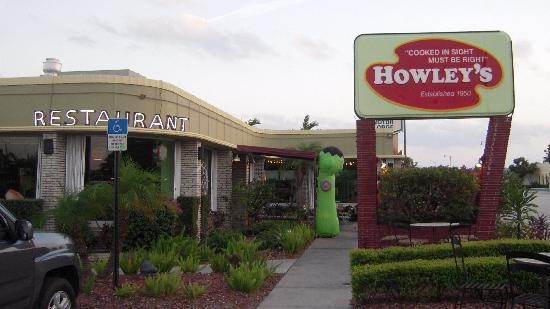 *****  Howley's Restaurant, 4700 South Dixie Highway, West Palm Beach, Florida 33405, (561) 833-569.
One of my favorite South Florida joints to eat breakfast, lunch and dinner at is Howley's Restaurant which is on Dixie Highway in West Palm Beach.
This joint has been around since 1950…and is basically an old fashioned diner. Other than a flat screen tv here and there, you'll swear that you are in a diner circa 1950. This joint doesn't play the Johnny Rocket's game. The decor is the real McCoy.
Howley's does "everything." Breakfast-lunch-dinner…In addition to a counter, there is booth and table seating. There is also an outdoor dining patio.
Just so you know, the guy who owns the famous Dada Restaurant located in Delray Beach bought Howley's about 3 years ago…soooo the food is absolutely top-notch. This joint makes crab-cakes, the likes of which you have never tasted before.
Over the past few years, I probably have eaten in this joint 20 times. I absolutely love the atmosphere, the food and  the hip-youngsters that comprise the wait-staff (no they don't wear 1950's costumes).
Howley's prices are "all over the place." There are all kinds of bargain specials, but some of the dishes are pretty pricey. Like I said before, this is a diner whose short-order-cooks were replaced by top-notch chefs.
This is a great place. If you look closely, you will see that Howley's is right next door to a NO TELL MOTEL circa 1950. I sure wish Howley's walls could talk.
Howley's is open 7 days a week for breakfast, lunch and dinner. As for the crowd…tee shirts/shorts…tuxedos…suits…bikers…you name it.
Great place. Don't miss it.