Scarfone's Coal Fired Pizza (Coral Springs)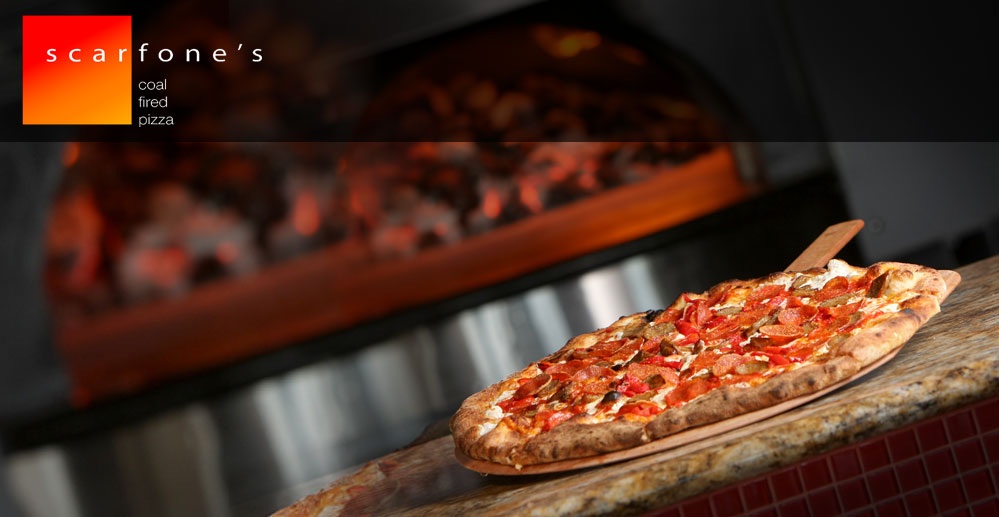 *****  Scarfone's Coal Fired Pizza, 6240 Coral Ridge Drive, Coral Springs, Florida 33076, (954) 345-3888.
Regular Jeff Eats' readers know by now, that coal fired pizza/chicken wings are two of my favorite dishes. Over the past few years, I have reviewed such joints as Anthony's, Coal Mine, Carolina's, Red Rock and Giovanni's in my "quest" to eat as much coal fired pizza/wings as humanly possible.
Now, thanks to reader Mike Powell, I found another great coal fired pizza joint…SCARFONE'S COAL FIRED PIZZA to tell you about.
This evening I "dined" at Scarfone's and I have to tell you that the coal fired pizza/wings were absolutely delicious. Throw in the obligatory Italian salad which was also right on the money and I had a meal fit for a king.
Scarfone's is a great looking retro-joint done up in a red, black and white color scheme. In addition to salads, pizza and wings, the joint also features 6 regular dishes like meatballs and ricotta, meatballs and spaghetti, cheese ravioli, egg plant rollatini, sausage with peppers/onions and spaghetti with butter or marinara sauce.
Do yourself a favor and check www.Scarfones.com for menu, pricing and pictures.
Scarfone's has been open since August, 2007. If you live in the Coral Springs' area this is a great place to know about. The joint is tee shirt/shorts friendly and is open Tuesday-Sunday for lunch and dinner.