3 G's Gourmet Deli (Delray Beach)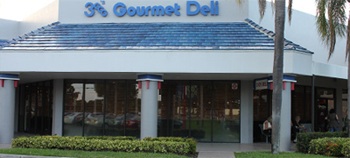 3 G's Gourmet Deli, 5869 West Atlantic Avenue, Delray Beach, Florida, (561) 498-3910.
Before Jeff Eats' website crashed, it had a writeup about 3 G's Gourmet Deli. The jist of that review, was that this New York "kosher-style" deli was a joint that's for the budget-crowd who would rather sacrafice quality for quantity.
This evening I gave 3 G's Gourmet Deli another try. Sorry to say, same result. 3 G's food is fair at best. You literally get tons of food for your money, but not one single item stands-out as being really good. For something like 13-14 bucks, you get an appetizer, entree, 2 sides, beverage and dessert…and the portions are LARGE.
If you are looking for quantity over quality this joint is for you. The food is just okay.
3 G's is open 7 days a week for breakfast-lunch-dinner.