Renzo's Restaurant (Boca Raton)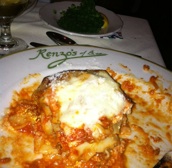 *****  Renzo's Restaurant, 5999 North Federal Highway, Boca Raton, Florida 33487, (561)994-3495.
This year's Mother's Day Dinner (yesterday) was spent at Renzo's Restaurant in Boca Raton. There were 18 of us and the final bill was $1,300. Everything and I do mean everything was served…steak, veal chop parmigiana, lobster tails, minestrone soup, pastas…Everyone ordered straight from the menu and there were some hefty doggie-bags. Do the math, eating like pigs the whole meal ran something like $72 a head and I am telling you that was soup-to-nuts.
Over the years, I have eaten at Renzo's at least 20 times. The food has always been terrifc and the staff is as efficient and accomodating as can be. Renzo's is an upscale joint, but you can wear tee shirts/shorts and no one is going to say boo. Just so you know,  that if you order like "normal people" you will spend far less than $72 for a complete meal. You can get away for $35-40.
In a previous writeup, I told you about Renzo's Cafe & Pizzeria which is located at 6900 North Federal Highway, Boca Raton, Florida. Renzo's Cafe does the pizzas and more casual stuff. By the way, Renzo's also has a take-out "only" joint at 1906 Clint Moore Road, Boca Raton, Florida. With these 3 joints, Renzo's has all of the bases covered.
Renzo's 3 joints are all terrific…
Renzo's Restaurant is open 7 days a week for dinner.