Thick & Thin Restaurant & Pizzeria (Boca Raton)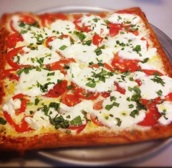 *****  Thick & Thin Restaurant & Pizzeria, 23062 Sandalfoot Plaza Drive, Boca Raton, Florida, (561) 482-7020.
Thick & Thin has been around since 1979.
There is an old saying, "Out of sight, out of mind." When I first moved down to South Florida 16 years ago, Thick & Thin was one of the regular "mom & pop" red-sauce joints that got my business at least once or twice a month. Over the years, for one reason or another, Thick & Thin became an "out of sight, out of mind joint." Now don't hold me to this, but until last night, I think the last time I was in Thick & Thin was something like 7-8 years ago. Why I forgot about this joint?…I don't know.
Anyway…last night I ate dinner in this hole-in-the-wall and I have to tell you, that the food is as good as when I was a regular customer. Great pizza…veal parmigiana…veal francese…veal marsala…You know the drill, soup or salad, entree, side of pasta and garlic rolls…
Thick & Thin is located in a shopping center on 441 in Boca Raton. The CVS is out of business…The Winn Dixie is out of business…Many other vacancies, yet this little joint which seats about 50 was jammed and the take-out business was booming.
This is a real casual joint, so tee shirts/shorts are the dress of the day. Like I said before, Thick & Thin has been around for something like 29 years, so obviously even without my patronage it has been doing just fine.
This joint is open 7 days a week for lunch and dinner and by the way, in the center there is a great car wash Express Car Wash that for 8 bucks gives you one of the best exterior washes going.
Great NY Style Pizza and a Great Car Wash…courtesy of Jeffeats.com