Park Avenue BBQ & Grille (Boynton Beach)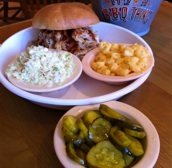 *****  Park Avenue BBQ & Grille, 4796 North Congress Avenue, Boynton Beach, Florida 33426, (561) 357-7427.
Park Avenue is a small "local" South Florida bbq chain. I have lost count on how many there are, but 7 or 8 units sounds about right. Over the years I have eaten in 3 of its locations a total of something like 35 times and taken out so much food, that it's amazing that I haven't had to have an angioplasty done. Anyway…my last Park Avenue outing was last night (at the Boynton Beach location) and I have to tell you, that the this joint's baby-back ribs and bbq chicken are absolutely delicious. This joint also makes corn-fritters doused in powder sugar that are terrific.
Do yourself a favor and visit a location in your area. Delicious food. Big portions. Pleasant and efficient waiters/waitresses. All kinds of menu "price specials." Park Avenue is open 7 days a week for lunch and dinner. If you wear anything dressier than tee shirt/shorts you will look silly.