Le Tub (Hollywood)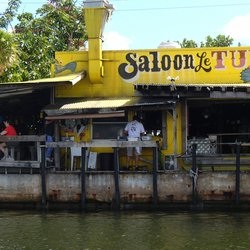 Le Tub, 1100 North Ocean Drive, Hollywood, Florida 33419 (954) 921-9425.
Awhile back, Gentlemen's Quarterly (GQ) magazine rated the hamburger at Le Tub as the best hamburger in America. Well, let me tell you something…If Le Tub's hamburger is the best in the United States, then I'm going to be elected the next Pope and I ain't even Catholic.
The burger is crap. The staff a bunch of nasty bastards. If you think I am being harsh on this joint, "GOOGLE" Le Tub and read the numerous "customer reviews" and decide for yourself if this is a joint that you want to try.
All I can say, if you eat at this joint…YOU DO SO AT YOUR OWN PERIL.