Frank's Ristorante & Pizza (Pompano Beach)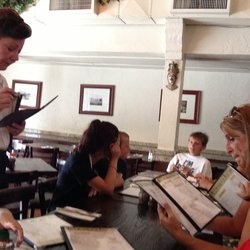 *****  Frank's Ristorante & Pizza, 3428 East Atlantic Boulevard, Pompano Beach, Florida 33062, (954) 785-4140.
Over the years, I must have eaten at Frank's at least 20 times. It is basically a pizza joint which seats maybe 35-40 people. It is one of the better "mom & pop" red-sauce joints which dot the South Florida landscape. This is strictly a shorts/tee shirt venue.
My latest visit to Frank's, was this past Friday Night as part of my annual attendance at the  Pompano Beach Seafood Festival where The Buckinghams were performing. By the way, this annual Festival is a 3-day affair and is a great event for those of you who like rock n roll music on the beach, craft booths and great food vendors.
Anway, let me get back to Frank's…terrific pizza, veal parmigiana, chicken cacciatore and garlic rolls.
If you live in the area, Frank's which has been around something like 9,000,000 years is a great place for a really casual lunch or dinner. Frank's is open 7-days a week.