Nino's Pizzeria & Restaurant (Boca Raton & Delray Beach)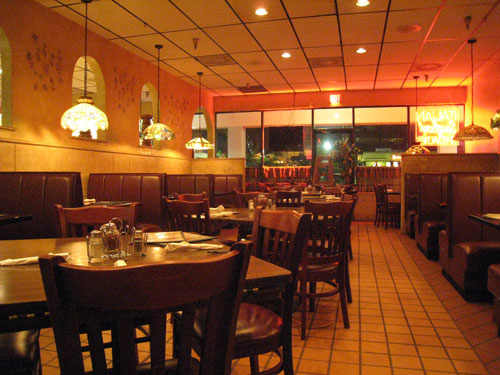 Nino's in Boca Raton
*****  Nino's Pizzeria & Restaurant, 7120 Beracasa Way, Boca Raton, Florida 33433, (561) 392-9075—&—13900 South Jog Road, Delray Beach, Florida 33445, (561) 499-3988
Nino's is one of my favorite "mom and pop" Southern Italian joints in South Florida. I could be going out on a limb here, but I think that after you have tried this joint, you will also become a big fan.
Just so you know, the Boca Raton location has been around for something like 25 years…the Delray Beach location has been in business for about 3 years. Over the years, I have eaten in the Boca location something like 30 times and the Delray location twice…although the menus are almost identical, I like the food, ambiance and service in the Boca restaurant better…call me a creature of habit, but I really feel at home when I enter the Boca joint…from the way I am greeted at the front door, to Nino the owner waving and talking from behind the pizza counter to the customers…the food and service in Delray Beach is just fine, but there is something "special" about the Boca location.
Although Nino's seemingly "follows" the standard pattern…Soup or salad, garlic rolls, entree with a pasta side…this joint makes some of the most  delicious dishes and pizza that you have ever eaten. I would personally match its veal chop parmigiana—bone in chicken cacciatore— bone in chicken scapriello—shrimp scampi entrees against any Italian restaurant down here in South Florida.
Like I said before, Nino's has been around for something like 25 years. The Boca Raton joint is jammed for dinner 7-days a week and has a takeout business that seems to be never ending. The Delray Beach spot has also  developed quite a following…but my heart belongs to the Boca joint. Both joints are open 7 days a week for lunch and dinner.
Great food. Great service. Pizza joint prices…
By the way, Nino and his wife Josephine own Josephine's Italian Restaurant which is located on Federal Highway in Boca Raton. That's a story for another day…but Josephine's is a very good "white table cloth" joint.