Granger's Bar & Grill (Delray Beach)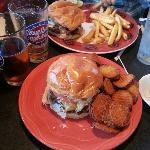 *****  Granger's Bar & Grill, 215 NE 6th Avenue, Delray Beach Florida (561) 276-7881
Granger's is a 38 seat bar-grill located on Federal Highway. The joint has something like 10 seats at the bar and  a handful of booths and tables…one waitress-one busgirl-3 in the kitchen and that's the whole shooting match. By the way, the waitress and busgirl are also the bartenders. The bathrooms are out-houses in the parking lot.
Granger's food is absolutely great. Appetizers, burgers, salads, main dishes everything is delicious. How that little kitchen bangs out so much delicious food is beyond me, but in the 30-40 times that I have eaten at Granger's everything was right on the money.
I am telling you, that this little joint is a MUST for you. Wear tee shirt/shorts so you don't look stupid. The joint is open Monday-Saturday for lunch and dinner. The prices are also dirt cheap and if you are there on a Saturday Night you have to try the brick of meatloaf that is one of this joint's specialities.
From the outside, Granger's looks like a D U M P. Try it, you will love it.