Brick Oven Pizzeria (Delray Beach)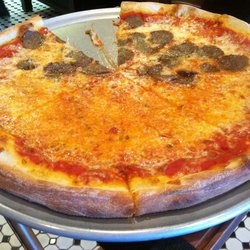 *****  Brick Oven Pizzeria–5869 West Atlantic Avenue, Delray Beach, Florida…(561) 5300
This weekend I found a terrific RED SAUCE ITALIAN JOINT in Delray Beach. Brick Oven has only been open a few months, but the word of mouth is really spreading and making this joint a very popular lunch and dinner place. It is family operated and the service is as terrific as the food is.
Brick Oven is a moderately priced joint that makes some really delicious pizza, calzones, stromboli, salads, subs and  meat-chicken-seafood main dishes. You know the deal, soup or salad/garlic rolls/main dish/ side of pasta. Main dishes run between $9.99-$13.99 a head.
Like I said before, this joint is open 7 days a week for lunch and dinner.