Cove Bagel & Deli (Deerfield Beach)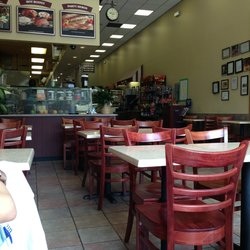 ***** Cove Bagel & Deli
1634 Southeast 3rd Court
Deerfield Becah, Florida 33441
(954) 481-8600
Just west of the Intracoastal Bridge on Hillsboro Boulevard in Deerfield Beach is an extremely large strip-shopping-center. If you do some checking, this "center" is actually three different centers which are adjacent to each other. This "center" has been around for "as long as I can remember" and to its credit, has mostly "mom and pop" type operations, like an ice-cream store, hardware, men's barbershop, dressmaker, tailor etc. Although this "center" is located in South Florida, it resembles in "tenant make-up" the shopping districts of Brooklyn, Queens and the Bronx circa the 1940s-1970s.
One of this center's tenants is the Cove Bagel & Deli. To call this joint a "hole in the wall" would be kind. It has a few tables inside and a few outside and that's it. If I had to hazzard a guess, maybe the whole shotting match is 250-300 sq feet. This joint is run by a husband and wife team, so it further qualifies as a "mom & pop" operation. Don't worry, their kids also work there, so we "know" that they are a mom and pop.
Cove Bagel & Deli for some reason has chosen old Coca Cola "stuff" as its decor. To be nice, let's call the decorating "cute."
This joint which is open for breakfast and lunch 7 days a weeks, is a terrific place to have a cup of coffee, eggs, deli sandwich, salad, etc. There is absolutely nothing fancy about this joint, but it has a "neighborhood charm" which for me, just hits the right spot.
The next time you need a hardware store, barbershop, dressmaker, tailor, ice cream shop, catering hall, bar, beauty parlor, pharmacy etc., all you have to do is step out of the Cove Bagel & Deli and follow your nose in any direction.