Lindburgers (Boca Raton)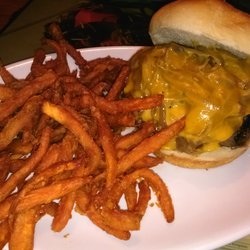 ***** Lindburgers
9834 Glades Road
Boca Raton, Florida 33434
(561) 218-5557
Let me start by telling you, that Lindburgers (at last count) had 9 locations in South Florida. and 1 in Penfield, New York. I can't give you an exact "break-down," but this "chain" has both company owned and franchised stores. The "original" Lindburgers is located in Delray Beach and has been around since 1983.
If you like hamburgers, Lindburgers is a terrific place for lunch or dinner. This joint's "hook" is that its menu features 50 "different" hamburgers. I suspect that "if you name it" Lindburgers can prepare the "exact" burger that you want. This joint's menu is also loaded with a huge assortment of appeitizers (my favorite is the fried zucchini), salads, sandwiches and other "casual dining-fare."
Personally, if it wasn't for the burgers, I wouldn't exactly be running to Lindburgers. When a place calls itself LIND BURGERS, you should be "smart enough" to know that B U R G E R S are what you should be ordering from the menu.
Over the years, I have eaten at Lindburgers at least 15 times (4 different locations). The burgers are very good. The fries are very good. The onion rings are very good. The prices are very reasonable.
Lindburgers decor is "early airplane hangar." Very cute. From what I can tell, all of the locations use the same "motif" and have identical menus.
If you are in the mood for a good hamburger and fries, Lindburgers should absolutely positively be on your radar screen. If you wear anything "more" than a tee-shirt/shorts, you are going to look silly sitting in this "airplane hangar" eating that thick juicy burger.
This joint is open 7 days a week. The one in West Boca Raton is open Sunday-Thursday 11am-9pm and Friday-Saturday 11am-10pm. Check Lindburgers website at www.lindburgers.com for a joint near you.