Cucina Rosano (Delray Beach)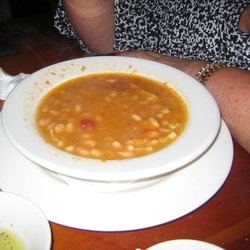 ***** Cucina Rosano
16950 Jog Road
Delray Beach, Florida
(561) 499-9419
South Florida has more Italian Restaurants than there are Chins in a Chinese phonebook. Seemingly, every strip-center down here, has some "type" of Italian joint as a tenant. In previous writeups, I have told you about "mom & pop" joints, "upscale gourmet" joints, "small-chains" and "big chains." The point being, that South Florida has enough joints to satisfy everyone's taste and pocketbook.
Now let me tell you about Cucina Rosano which is "part" of a small chain (3 locations). In addition to Cucina Rosano, the husband and wife team that own the chain, also have Bistro Rosano in Coral Springs and Villa Rosano in Boca Raton.
Although all three joints have similar menus and decor, for some unknown reason, Cucina Rosano is terrific, while the other two are just fair. I have eaten in all three joints (5 times in Cucina, 3 times in Villa and 3 times in Bistro) and have always found Cucina Rosano's food and service to be real solid, while the other two seemingly always miss on the food-front and have dis-jointed/confused service.
Just so you know, Cucina Rosano is a "red sauce" joint. The food is far from being gourmet stuff, but for what is basically a "mom & pop" chain, the pastas, pizzas, fish and meat entrees are heads above the stuff you usually get in this kind of neighborhood joint. The prices and portion size are "what you would expect" from this type of local joint. Trust me, you won't go to the poor-house.
Give Cucina Rosano a try. As for Villa and Bistro, let's just say, there are better places around. Cucina is open 7 days a week, Monday-Saturday 11:30am-2:30pm (lunch) and 5pm-10pm dinner, Sunday 5pm-10pm.