Uncle Lui's Restaurant (Sunrise)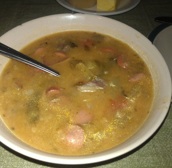 ***** Uncle Lui's Restaurant
8318 West Oakland Park Boulevard
Sunrise, Florida 33351
(954) 749-1908
One of your 2007's New Year's Resolutions should be, to eat dinner at Uncle Lui's Restaurant a HUNGARIAN RESTAURANT in Sunrise, Florida.
Uncle Lui's is a my kind of a joint: 1. It is a hole in the wall, which has tables and booths covered with vinyl tablecloths. 2. It is owned and opererated by the Bodnar Family (father, mother, son and daughter) who I assume are of "Hungarian decent." 3. The food is terrific.; 4. The portions are enormous; 5.The service is terrific. 6. The prices are 'dirt-cheap."
Uncle Lui's is open Wednesday-Sunday for dinner. Just so you know, this is not an "undiscovered" joint, so be smart and make sure that you have a reservation, because if you don't you "ain't" getting in. From what I can figure, the Bodnars basically have three seatings, 5pm, 6:30pm and 8pm, but at times this "seating" thing doesn't exactly run like clockwork (then again if I recall "my" history, it's the Swiss that make the timepieces and not the Hungarians.)
Just a heads-up: You can order ala carte at Uncle Lui's, but the way-to-go, is by ordering one of the 15 price-fixed dinners on the menu. These dinners are priced between $11-16 and include soup or salad, entree, one side dish, coffee and dessert. In addition, every meal comes with a complimentary appitezier of potato pancakes and "family style servings" of creamed spinach and red cabbage.
A recent dinner, allowed me to sample 4 entrees: roast duck, veal goulash, chicken paprikash and chicken francese. I am telling you, the food was terrific and the doggy-bags were loaded.
Try this joint.