Ruby's Pizza (Boca Raton)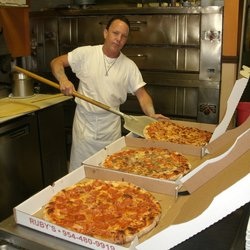 ***** Ruby's Pizza
620 Glades Road
Boca Raton, Florida 33431
(561) 368-4050
I guarantee you, that unless you "MapQuest" or call Ruby's for directions, you will never-ever find this pizza joint on your own. Ruby's is "hidden" in a shopping center on Glades Road in Boca Raton and is literally "invisible" from the road.
Ruby's has seating for maybe 10 people. A few booths, that's it.
Ruby's makes a great slice of New York Style Pizza. The rest of its "stuff" (pasta, meat and fish) is okay, but nothing to write home about.
The next time that you are "around" FAU or Boca Community Hospital (now you know the "basic" area where this joint is located), think about stopping in this joint for a couple of slices and a Coke. Just a "heads-up," at lunch-time, noon-1:30pm (Monday-Friday) this joint is absolutely packed with college kids, docs, nurses and other medical "types" eating in or taking stuff out.
Ruby's is open 7 days a week for lunch and dinner.