Dairy Belle Ice Cream (Dania)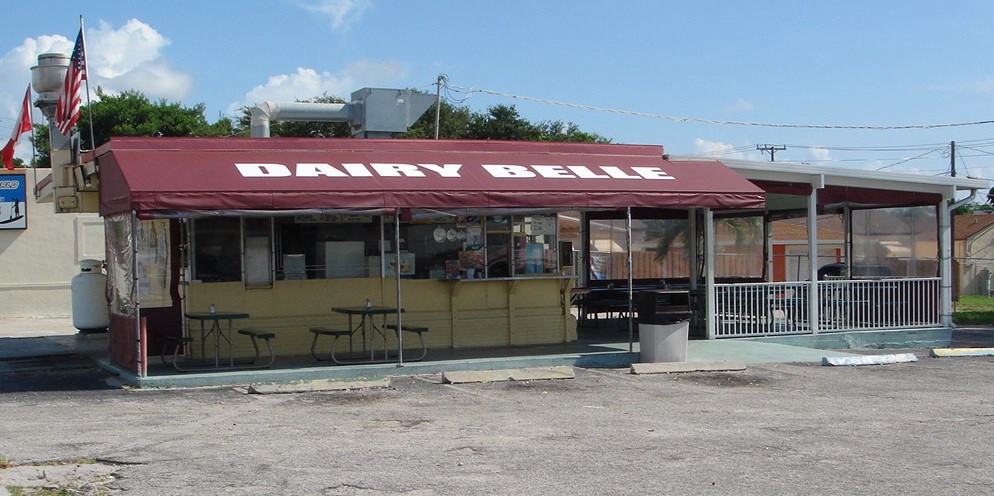 ***** Dairy Belle Ice Cream
118 North Federal Highway
Dania, Florida 33004
(954) 920-3330
Dairy Belle is a "one of a kind" joint. Let me explain.
Dairy Belle looks like an "ordinary" free-standing Carvel Ice Cream Store (circa 1960). Hopefully you know what I am talking about. If you don't, just picture a small building in a parking lot. The building has a glass window (maybe two) where you order and pickup ice-cream from a "guy" who has "soft serve" machines behind him. . Real simple. Now you know what Dairy Belle looks like. One other thing, there is no seating inside, but there are a few "picnic-style benches" outside.
Dairy Belle serves "stuff" like you find at Carvel and Dairy Queen. Good soft-serve stuff etc., but nothing that would warrant anyone "writing home" about it.
Now for the kicker. Dairy Belle is owned/operated by a couple, Gilles and Ritane Grenier, who were born and raised in Quebec. By the way, their daughter, Isabelle also works at the joint.
The Greniers in addition to selling soft-serve ice cream have a few "items" on the menu, that you absolutely-positively-"probably" can't find anywhere else in a fast-food South Florida joint. If you have been "following" this story (this is where it starts to get interesting), Dairy Belle serves POUTINE and GUEDILLE which are dishes "indegenious" to Quebec. Poutine (I know it sounds like a dirty word) are french fries (crispy/lightly salted ) which are covered in a melted mozzarella-like cheese and brown gravy. As we say in Brooklyn, FUGGETABOUTIT. This poutine "thing" is absolutely delicious. Dairy Belle also has an "Italian version" of poutine, which has the same delicious crispy/lightly salted french fries covered in a melted mozzarella-like cheese "topped" with shredded chicken and peas in a tomato sauce. FUGGETABOUTIT! The other "dish" that Dairy Belle serves is guedille, which is a chopped salad consisting of mayo, lettuce, tomato and onion piled high into a toasted hot-dog bun. This "plain" guedille can be "topped" off with shredded chicken or egg. FUGGEABOUTIT, this guedille "concoction" is another winner.
Dairy Belle is open 7 days a week, Sunday-Thursday 11am-10pm and Friday-Saturday 11am-11pm. This joint is a "one of a kind." You definitely "got to" try this one. By the way, this joint is located about one-block north on Federal Highway from Jaxson's Ice Cream Parlor ( see writeup), so if you really want to be a pig, you can load-up on poutine and quedille at Dairy Belle and then eat waffles and ice-cream at Jaxson's. By the way, just topping off this Quebec "stuff" with some simple soft-serve ice cream wouldn't be "such a terrible thing either."