Olde Dixie Fried Chicken (Orlando)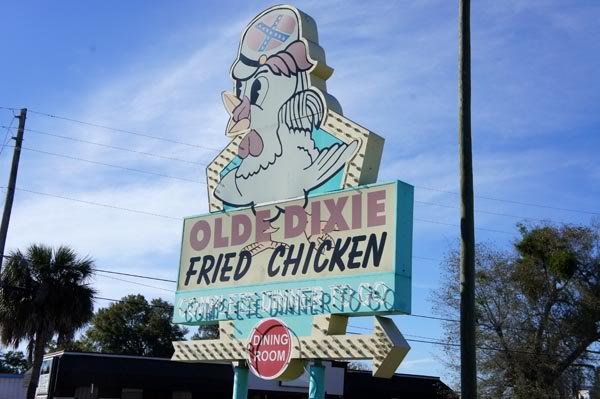 ***** Olde Dixie Fried Chicken, 5925 South Orange Avenue, Orlando, Florida 32809, (407) 855-0681.
One of my favorite foods is FRIED CHICKEN…
I know all about the "supposed" health hazards—but I still love fried chicken. In our immediate neck of the woods, for the past 20 years-my monthly "fast food fried chicken fix" (try and say that one fast 5 times) has been handled by Fran's Fried Chicken (Boca Raton) or Maryland Fried Chicken (Pompano Beach). If I'm really hurting, I'll do Kentucky Fried Chicken (Boca Raton) or Publix Super Market (Boca Raton).
Anyway…a few weeks ago, I had lunch at Olde Dixie Fried Chicken in Orlando. This is a free standing "fast food" joint—order at the counter/they bring food to your table. From what I understand, Olde Dixie which only accepts cash has been around for 50 years. Based on the formica tables counter/cooking areas, outdoor bathrooms–the bet here, is that Olde Dixie hasn't been spruced up since it first opened. Real interesting, the outside signage features a big chicken wearing a confederate soldier's cap…Hey, you do know-don't you, that Florida seceded from the Union on January 10, 1861?
Now the food…right up there with the best fried chicken Jeff Eats has ever eaten. Not sure how they make it, but the skin was lightly coated with batter and the chicken was moist/tender…sort of like a broasted chicken. In addition to fried chicken, they got stuff like fried fish and fried shrimp…but the game here is fried chicken. Old Dixie also has really good crinkle cut French fries. As expected, they sell the chicken by "dinners"-"buckets" "barrels"–and the chicken comes with those crappy rolls that every takeout fried chicken joint in the world uses.
So what do we got here?
Olde Dixie Fried Chicken–a time warp joint that makes amazingly delicious fried chicken and fries. The joint is open Monday-Saturday 10am-9pm, Sunday 10am-8pm.