Under The Streetlamp (Kings Point Golf And Country Club- Delray Beach)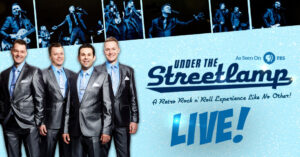 * Under The Streetlamp
These guys put on a great show!
Just picked-up 2 tickets…
The Skinny:
Under The Streetlamp
Friday, February 18th, 2022 (8pm)
Kings Point Golf And Country Club
7000 Atlantic Avenue
Delray Beach, Florida 33446
Tickets: kingspointdelray.com
Box Office- (561) 499-3335
$24.00 Residents • $30.00 Non-Residents
From kingspointdelray.com
UNDER THE STREETLAMP goes back to the music that has captivated audiences around the country! With their tight harmonies and smooth dance moves, UNDER THE STREETLAMP performs an electrifying evening of classic hits from the American radio songbook.
Featuring former leading cast members of the Tony® Award-winning Broadway musical "Jersey Boys", UNDER THE STREETLAMP is a concert celebration of classic hits of the American radio songbook from the 1950's – 1970's. Exuding the irresistible rapport of a modern day Rat Pack, Michael Ingersoll, Christopher Kale Jones, Brandon Wardell and Shonn Wiley deliver an evening of unforgettable entertainment featuring tight harmonies and slick dance moves that take audiences