Roll The Stones (Wellington Amphitheater- Wellington)
* Roll The Stones.
Definitely one of the best Rolling Stones' tribute bands in the business.
Check wellingtonfl.gov for concert-event-food truck schedule/information.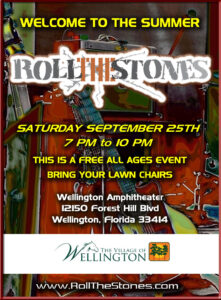 from RollTheStones.com
This is a great show based around the hall of fame songwriting team of "The Rolling Stones". NOT a look-a-like band or a Rolling Stones clone. This band is all about putting on a super high energy rock & roll show! Influenced by Blues, R&B, R&R and all great music from the decades., this more than simply a tribute act playing the best of the Rolling Stones' music from the 60's, '70s and '80s. Possessing a similar energy to the Rolling Stones' phenomenal live sound, capturing the power and excitement of those now legendary stadium tours with all the big hits and a wide selection of rarities sure to please casual and hard core Stones fans alike
More information about Roll The Stones can be found at http://www.RollTheStones.com
Experience a flashback to the songs that were… the soundtrack of your lives. Younger listeners appreciate the energy and power of the iconic songs that made the Rolling Stones a lasting force in popular music.