SHAKE RATTLE ROLL – BACK TO THE 50'S WITH NY ROCKABILLY ROCKETS (Boca Black Box- Boca Raton, Lake Park Black Box- Lake Park)
* SHAKE RATTLE ROLL – BACK TO THE 50'S WITH NY ROCKABILLY ROCKETS
Tickets just went on sale…
Jeff Eats and Mrs. Jeff Eats have seen the show…
I'm telling you guys- absolutely terrific!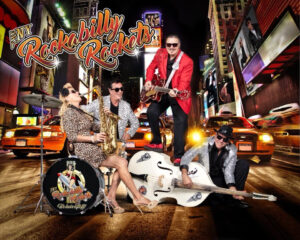 The Skinny:
SHAKE RATTLE ROLL – BACK TO THE 50'S WITH NY ROCKABILLY ROCKETS
Sunday, March 7th, 2021 (4pm & 7pm)
Boca Black Box
8221 Glades Road Suite #10,
Boca Raton, Florida 33434
Box Office: 561.483.9036
Tickets: bocablackbox.com / also check goldstar.com for discount tickets
Saturday, April 3rd, 2021 (7pm)
Lake Park Black Box
700 Park Ave
Lake Park, Florida 33403
Phone: 561.328.7481
Tickets: lakeparkblack.com/ also check goldstar.com for discount tickets
Just a taste…
from bocablackbox.com
Strap yourself in and hold on to the person next to you because the NY Rockabilly Rockets will take you back in time to sock hops, malt shops, hot rods, and your favorite songs!
Their spectacular high-energy production, Shake Rattle Roll, pays tribute to the legends of Sun Records and mixes in some of the absolute best and most hip swing, rockabilly, country and rock & roll songs of the 50's. This dynamic full-production Vegas-style show takes you on a nostalgic journey through vintage Rock & Roll with spectacular lights, sound, stage props, backdrops, dancers, vintage guitars, wailing sax, and stand-up bass. If you love Elvis, Roy Orbison, Carl Perkins, Jerry Lee Lewis, Johnny Cash, Billy Haley & His Comets, Eddie Cochran, The Stray Cats, The Everly Brothers, Chuck Berry and many other greats, don't miss this show.
Get ready for lift off because the Rockets will have you clapping your hands and dancing in the aisle all night long.