Stars Of The Sixties (Carol & Barry Kaye Auditorium at FAU- Boca Raton)
Just checked the box-office (poprockdoowopp.com) and there are only a handful of really good seats left for Stars Of The Sixties on Saturday, February 1st, 2020 (8pm) at the Carol & Barry Kaye Auditorium in Boca Raton. If you wanna go, I'm kinda thinking- that it's time to make your move on the ticket front?
Posted on September 27th, 2019
* Exclusive Internet Pre Sale- Stars Of the Sixties.
Let's call this one…The Early Bird Gets The Worm!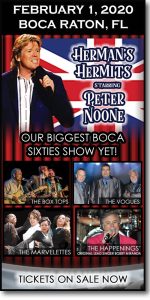 Exclusive Internet Pre Sale- Stars Of the Sixties (Starts on Saturday, September 28th, 2019 at 10am)
Stars Of The Sixties
Saturday, February 1, 2020 at 7:30 PM
Carole & Barry Kaye Auditorium at FAU
777 Glades Road
Boca Raton, Florida 33431
Box Office: (561) 297-6124
PRE SALE CODE: POPROCK
Here's the ticket link to your exclusive presale: http://bit.ly/InnerCircleFAU60sPresale
(Just a reminder that the code is not active until Saturday, September 28th at 10am)
__________________
Tickets go on sale to the general public on Friday, October 4th at http://bit.ly/InnerCircleFAU60sPresale
from poprockdoowopp.com
Stars of the Sixties are back at FAU, with a brand-new line-up featuring dozens of hit records sung by the original artists who made them! Herman's Hermits starring Peter Noone ("I'm Into Something Good", "I'm Henry VIII", "Mrs. Brown You've Got a Lovely Daughter", "A Kind of Hush", "Listen People", "A Must to Avoid", "Can't You Hear My Heartbeat"), The Vogues ("You're The One", "Five O'Clock World", "My Special Angel", "Turn Around, Look at Me"), The Marvelettes ("Please Mr. Postman", "Playboy", "Beechwood 4-5789", "Too Many Fish in the Sea", "Don't Mess With Bill") featuring original Marvelette Katherine Anderson Schaffner, The Happenings' original lead singer Bobby Miranda ("See You in September", "I Got Rhythm", "Go Away, Little Girl") and for the first time ever in Boca, The Box Tops ("The Letter", "Cry Like a Baby") featuring original members Gary Talley and Bill Cunningham. Don't miss this one-night-only reunion of 5 of the biggest hit-makers of the 60s! A "Pop, Rock & Doo Wopp" production.