A Tribute To The Temptations (Lauderhill Performing Arts Center- Lauderhill)
Just checked the box-office (lpacfl.com) and there are a handful of really good seats left for- A Tribute To The Temptations…trust Jeff Eats when I tell you that the 4 guys (all sing lead) in this group are off the chart good. If you are a fan of The Temps, Smokey, The Tops, Marvin- A Tribute To Temptations is an absolute must see show…
Posted on November 20th, 2019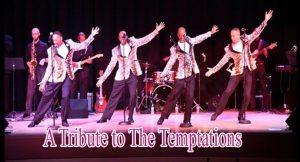 * A Tribute To The Temptations.
Jeff Eats and Mrs. Jeff Eats have seen the show 5-times…
Trust me on this one, these guys aren't just good, they are absolutely fabulous!
If you're into The Temptations, The Four Tops, Smokey Robinson, Marvin Gaye, The Isley Brothers, Sam Cooke. The Righteous Brothers (yes, I said The Righteous Brothers!) you gotta go see A Tribute To The Temptations! No fooling here- 4 killer lead singers that bring the house down on every number they sing!
Don't miss this show!
The Skinny:
A Tribute To The Temptations
Sunday, January 5, 2020 at 7:00PM
Lauderhill Performing Arts Center
3800 NW 11th Place
Lauderhill Avenue of the Arts
Lauderhill, FL 33311
Box Office: (954) 777-2055
Tickets: lpacfl.com
Children ages 2 and under – Free (lap seating)
This will be the show of the year! You'll sing and dance along to the awe-inspiring vocals and choreography of this amazing Temptations tribute group! Come hear your favorite hits of "the greatest vocal group of Motown Records' golden era empire" at this evening of unforgettable music! Sing along…Dance along…We promise, you don't want to miss it!