Tesla Motors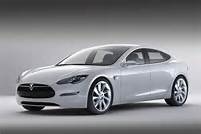 * Tesla Motors.
I don't know about you, but Jeff Eats finds the Tesla Motors "the electric-car company" a very interesting story.
One of my neighbors just got one and I will tell you, it's a great looking car. I might also add- it's a very very expensive car.
Tesla Motors is a public company- trading under the symbol TSLA. The last time I checked the stock was around $217 a share
If I got this right, 1-battery charge maybe gets the car to travel 200 miles.
Look! There is no way that BMW, Ford, GM, Acura aren't going to eventually crush this novel-company. Do you really believe that the major car-players are going to let a little pisher own a segment of the auto industry-namely the electric segment? Well Jeff Eats doesn't.
If this stuff interests you, do some "research" on Tesla…trust me, it's an interesting read!
What I do know is that TSLA's stock- hype or no hype isn't worth $217. I'm no accountant, but its most recent earnings report says $217 is a BUBBLE!
Jeff Eats has "no price" in mind…but my guess is that anyone who bought this stock under $217 should be looking for the exit-door asap!