Gusto Fino Italian Deli (Coral Gables)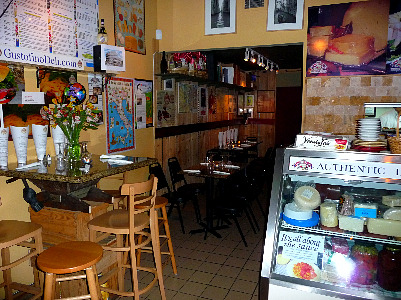 ***** Gusto Fino Italian Deli, 2103 South LeJeune Road, Coral Gables, Florida 33134, (305) 444-0504.
Every so often Jeff Eats says to himself…
"Self, do you really want to share an amazing -7 table, hole-in-the-wall, Italian sub/salad joint find with total strangers?" Now you gotta picture this…one shoulder has a little Devil Jeff Eats on it and the other shoulder has a little Angel Jeff Eats on it…
Anyway…
Here's a gift from me to you…Gusto Fino Italian Deli in Coral Gables with its full boat of salads, hot/cold subs, pastas/entrees/ciabatta pizza makes absolutely dynamite stuff. A recent Jeff Eats' outing had me doing -meatball parmigiana sub, sausage-peppers & onions sub, caprese salad, meat lasagna and I gotta tell you, the food blew me away. No fooling around, the meatball sub (baguette) was one of the best sandwiches Jeff Eats has eaten since this blog's 2006 startup…trust me on this, I've eaten a ton of sandwiches in my day and Gusto is turning out some heavy duty product.
You can check www.gustofinodeli.com for menu/prices.
Gusto Fino Deli is open Monday 11am-4pm, Tuesday-Friday 11am-5pm, Saturday 11:30am-4pm, closed on Sunday.
Nothing for nothing—way back on August 31, 2011 Jeff Eats first told you about Gusto…that's why that little Devil Jeff Eats didn't put up much of a fight.