***** PUBLIX SUPER MARKETS *****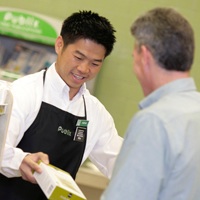 ***** PUBLIX SUPER MARKETS *****
I recently told you guys about- how on August 25, 2012 I had purchased some "marble cake" at Publix manufactured by Central Pastries. I went on to tell you that the "marble cake" was vile and disgusting.
Just wanted you to know, that on August 27, 2012 "with no questions asked" Publix at the store level refunded the $3.79 purchase price.
Also wanted you to know, that in followup to an email which Jeff Eats sent to Publix Super Markets on August 25, 2012 about the product—Publix "mailed" an apology letter and a $10 gift card to Jeff Eats which was received on August 30, 2012.
Unlike some of the "other" companies us-South Floridians seemingly have to "deal" with on a daily basis–like Comcast and FPL, Publix simply said that they were sorry, that Jeff Eats was a valued customer and that enclosed was a $10 gift card. No excuses, no stories, no stalling, no NOTHING….
PUBLIX SUPER MARKETS knows how to treat people. AND as Robert Blake who didn't kill his wife (wink! wink!) would say, "And that's the name of that tune."